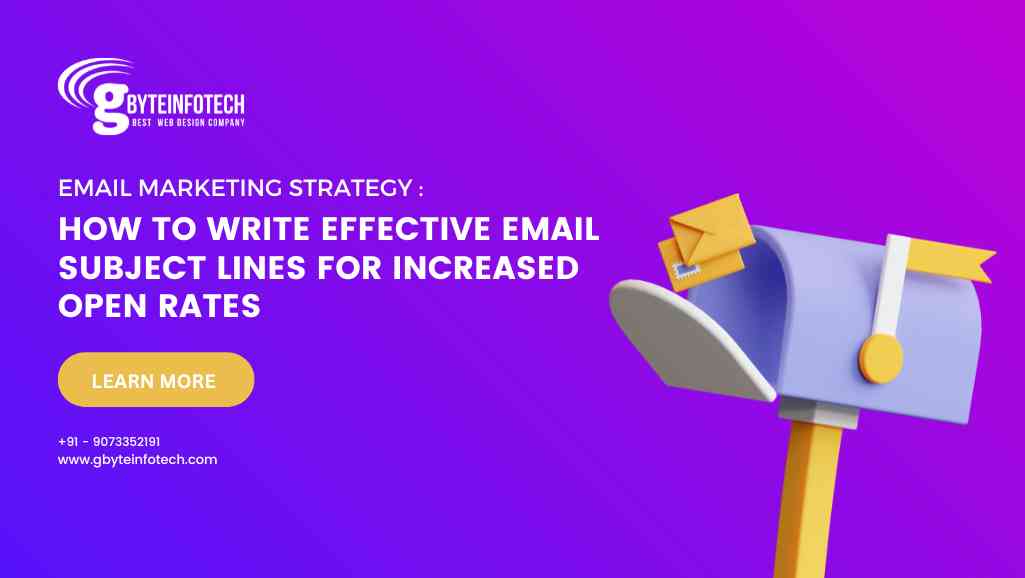 How to Write Effective Email Subject Lines for Increased Open Rates
In today's digital age, email marketing remains a powerful tool for businesses to connect with their audience. However, with the average person receiving numerous emails daily, crafting an engaging subject line has become more critical than ever. A well-crafted subject line can entice recipients to open your email, increasing the chances of them engaging with your content and taking the desired action. In this blog post, we will explore the art of writing effective email subject lines and share valuable tips to help you boost your open rates and enhance your email marketing strategy.
Keep It Short and Concise to Write Effective Email Subject Lines:
One of the golden rules of writing email subject lines is to keep them short and concise. Aim for a length of 40 to 50 characters to ensure that the entire subject line is visible on both desktop and mobile devices. Avoid using long, vague phrases that may get cut off or lose impact. A clear and to-the-point subject line will pique the recipient's curiosity and encourage them to open the email.
Personalization Works Wonders in Writing Effective Email Subject Lines:
Personalizing email subject lines can significantly increase open rates. Use the recipient's name or other relevant information to create a sense of familiarity and connection. Most email marketing platforms offer personalization tags that allow you to insert the recipient's name automatically. Personalized subject lines show that you value your subscribers and can make your emails feel more tailored and relevant.
Create a Sense of Urgency:
Adding a touch of urgency in your subject line can prompt recipients to act promptly. Phrases like "Limited Time Offer," "Ending Soon," or "Last Chance" can create a fear of missing out (FOMO) and encourage people to open your email right away. However, use urgency sparingly and genuinely, as excessive urgency can come across as manipulative and may reduce trust.
Avoid Spam Trigger Words when Writing Effective Email Subject Lines:
To prevent your emails from ending up in the spam folder, avoid using common spam trigger words in your subject lines. Words like "free," "guaranteed," "earn money fast," and excessive use of exclamation marks can raise red flags for spam filters. Focus on delivering value and authenticity in your subject lines to build trust with your audience and improve deliverability.
Use Numbers and Lists:
Numbers and lists in subject lines can attract attention and make your emails appear more structured and easy to consume. For example, "5 Tips for Boosting Productivity," or "10 Must-Have Tools for Social Media Marketing." People are naturally drawn to lists, as they offer a clear and concise promise of valuable information.
Test and Analyze:
A/B testing is an essential aspect of optimizing your email subject lines. Test different subject lines with a portion of your audience to see which ones perform better. Pay attention to open rates and click-through rates to gauge the effectiveness of each subject line variation. Analyzing the data will provide valuable insights into what resonates with your audience and help you refine your future email campaigns.
Conclusion:
Writing effective email subject lines is a skill that can significantly impact the success of your email marketing efforts. By keeping subject lines short and personalized, creating a sense of urgency, avoiding spam trigger words, using numbers and lists, and conducting A/B testing, you can boost your email open rates and engagement. Remember, the subject line is your first opportunity to make a positive impression on your audience, so make it count!
Assess your business potentials and find opportunities
for bigger success